Have pooling water in your yard? Greenway LS can provide you different solutions to address your unique problem!
What is a french drain?
The term French drain can mean many different things and people have many different techniques. Sometimes called drain tile because early French drains were installed using terracotta roofing tiles. The modern French technique was created, published, and popularized by Henry Flagg French of Concord, Massachusetts in 1859. It has since become a staple technique for farmers everywhere.
French drains work by 'absorbing' ground saturation with the use of gravel and a perforated pipe. The hydrostatic pressure of saturated soil forces water to the French drain as a path of least resistance. When the water enters the French drain, it is carried to a storm sewer or dry well for discharge.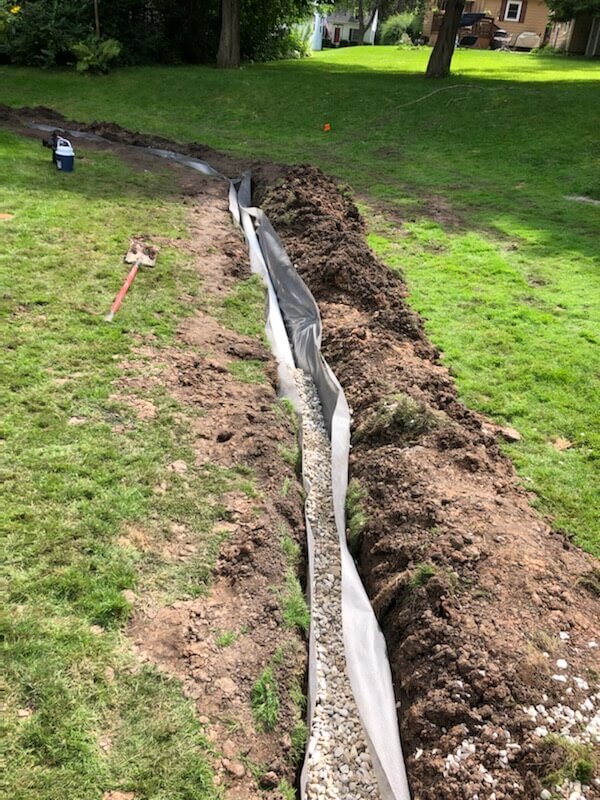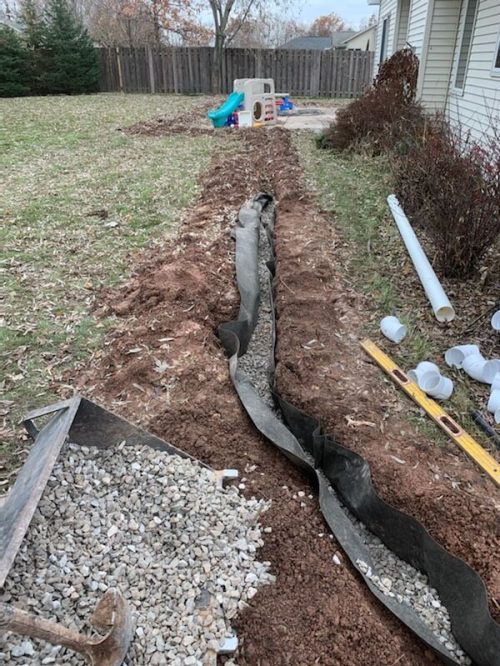 French Drain Frequently Asked Questions
When do I need a French drain? Do French drains actually work?
Yes. Although the first modern example was published in 1859, the concept has been used for centuries before. In fact, every house with a sump pump receives its water from a French drain (often referred to as drain tile) around the basement foundation. Although they are called different things, the concept and technique are exactly the same. I see a lot of different ways people install French drains.
What's the difference?
A quick search on YouTube will reveal seemingly endless results of experts installing French drains. Seemingly everyone swears by their technique. There are different considerations for different techniques.
First, soil types vary throughout the country. What may be acceptable for one soil type may not be satisfactory in your yard. 
Second, some techniques are simply not built to last a long time. The most basic techniques can be very affordable but also have a limited life span.
How do you do it?
All our French drains include a 4" perforated pipe, surrounded by a generous amount of crushed, screened ¾" limestone and completely wrapped 360 degrees with 5.6 oz nonwoven polypropylene geotextile.
Huh?
We build these things to function very well and last a long time. We want our drains to last as long as possible while providing the best performance.
Geotextile? Sounds like a fancy name for landscape fabric.
That's exactly what it is. Geotextile refers to a much higher quality of fabric that is designed and constructed to be much more durable than typical landscape fabric. We only use the highest quality fabric for our French drains. The fabric creates a barrier between the soil and the pipe to prevent clogging.
¾" Screened Limestone?
Provides best performance to allow water infiltration and provide structural integrity to protect the pipe from clogging and other pressures.
Our Promise to You
WE WILL REPLY!
No more waiting or wondering. Even if we can't help you with your service, we will always respond no matter how you contact us.
DRAINAGE SOLUTIONS CATERED TO YOUR NEEDS.
Problems with drainage? Depending on your unique problem, we use drainage, gravel drain, french drainage or sloped yard drainage. Our solutions are catered to your needs to achieve your goal.
WE KEEP OUR PROMISES.
Frequently, contractors won't even show up! We always honor our commitments.
FREE ESTIMATES.
It doesn't cost anything for us to take a look.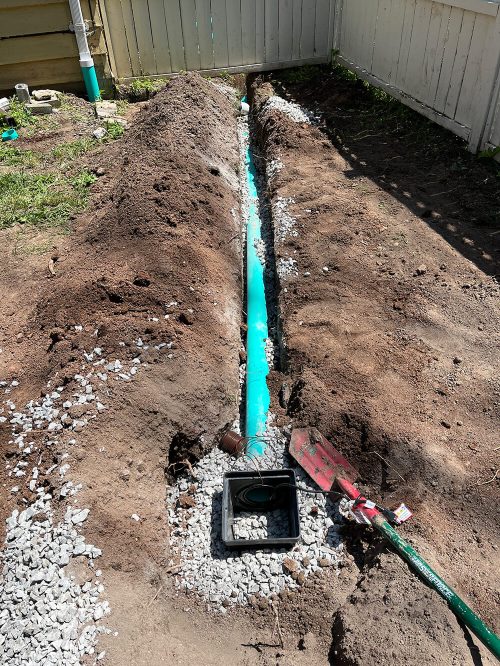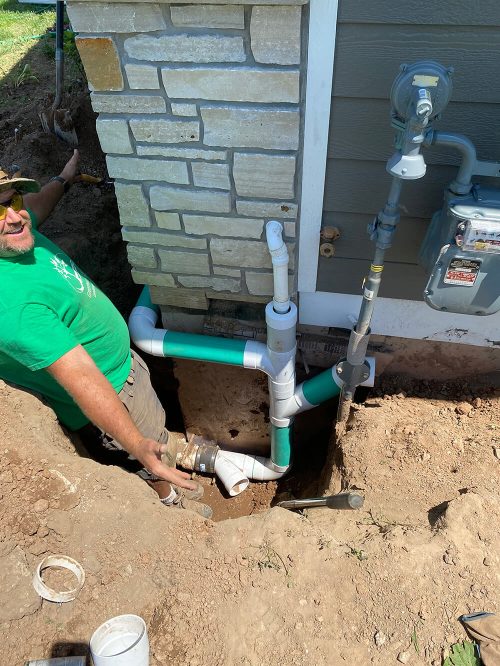 We Love What We Do
There are multiple reasons why we love working with yard drainage. Customer satisfaction for one, especially when customers tell us how thrilled they are with the work we have done to correct their lawn drainage problems. We know we have help to resolve a concern.
Another one is figuring out realistic ways to solve a water problem without costing an arm and a leg. Some companies will come in and quote upwards to 50K for a project that involves massive house waterproofing. The problem is, once completed, there can still be flooding in a yard.
Our solution, for a fraction of the cost, is to divert the water from the property. This way the house stays dry and the water in the yard is gone.
In our line of work, we have seen massive over expenditures. Typically charged for correcting excessive water in and around the house. Our experience getting to the root of the problem the first time is best practice. Often there is a simple, and effective way to deal with the problem.
Licensed and Insured
Yes, Greenway LS is fully licensed and insured. In Wisconsin it is required to be licensed as a "utility contractor," to do any outdoor plumbing or sewer hookups. There are also state codes about what pipes to use…required slope…calculating GPM (gallons per minute), etc.  
Greenway LS believes in following the state regulations as another way to insure proper installation. We believe it gives the customer another layer of assurance the project will be completed according and up to code.
In addition, Greenway LS must submit to the county a plan for the work to be performed. Once they sign off, the permit (for the work) will be issued. All of this must be done before any work can begin.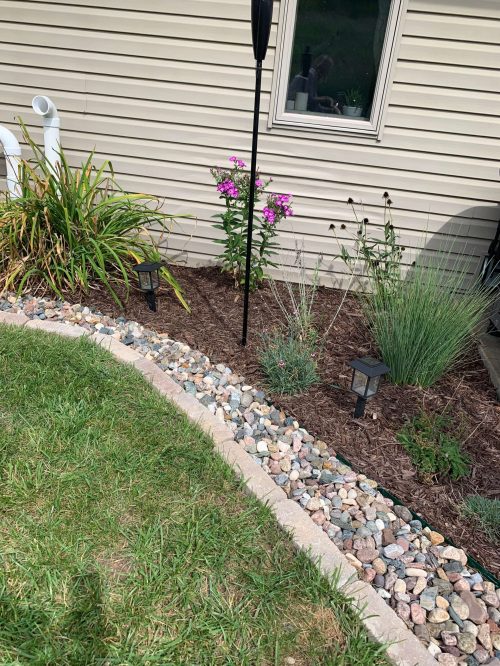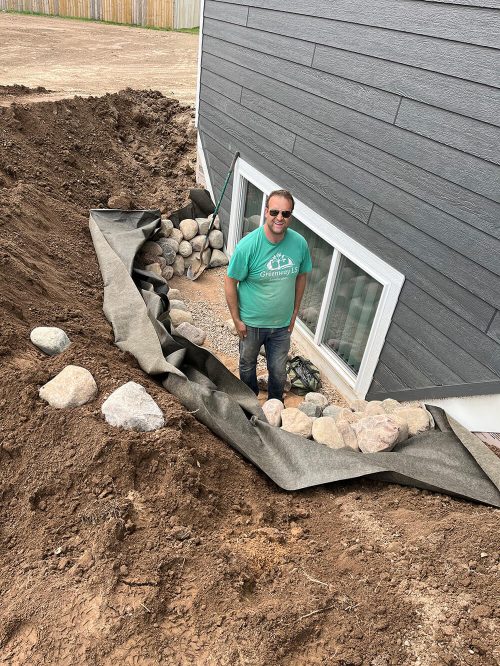 Greenway LS Leads the Way in Customer Service
Starting off, we hire employees that hold the same high standards that we set for ourselves. In doing so, we ensure that the work Greenway LS does will be consistent with each project. More importantly, it will be done honestly and with integrity.
We pride ourselves on being transparent with our clients. Our employees understand the benefits of great customer relationships. We will provide honest evaluation of the work to done. Also, we will share with you, using our professional experience, your best option. Our number one job is to make sure you understand the full scope of what will occur, should we begin a project for you. Finally, we deliver on-time completion of your project, while staying within budget.
We are professional and guarantee high-quality and straightforward workmanship. In addition, we keep a detailed record of project discussions, thus continuing our commitment to the high standards we have set.
"We hired Joe and his team to reroute a number of our downspouts to our sump drain and we are extremely happy with the responsiveness, value and overall workmanship of the project. Joe was very responsive and realistic on both budget and timeline, and is always available for follow up questions. Wonderful experience!"
-Aaron Fischer